Name: Nurgül Yeşilçay
Date of birth: 26/03/1976
Nurgül Yeşilçay was born in Izmir, grew up there, and her father is from Afyon, her mother is from Bolu. Registered in Afyon for the love and affection of her father to that city. Her both parents were elementary school teachers. She learned to read at 4 years old. She have two older sisters. She learned to read when she were around them. She says it can not due to a superior intellect, just when she were around her sisters had become so, and on it she likes to read. She have younger brother.

Started

first grade,

but she

transferred

directly into the

third.

They lived

in the neighborhood

''Şirinyer''.

Her sisters now living in Izmir, they are hosts.

By the age of 6-7 she been very naughty. After that she subsided, after elementary school during high school again she became disobedient. From 6-7 years old until high school she were very examples. And everyone shared their problems with her, she quickly embracing their feelings, then again she gone wild. She trained athletics - running /short distance/ in the years of high school. Now she hate running. She has participated in competitions throughout her school years, but she did not win. She likes to painted. In primary school she won third place in the country on topic ''Peace''. During high school she apprenticeship to a painter, then also she continued to paint, but after the birth of her son, she did not have time. She has 6-7 her pictures /panel/ at her home. She thinks she has found her style of painting. She realized how nice is to working with oils paint. She had an interest in historic buildings and architecture. She has bought land area, she hopes to build a stone house. At one she wants to buy a church in the town of Çеşме. She likes the high roof /ceilings/ and her round windows /on church/.

She graduated from the State Conservatory of Anadolu University in

Eskişehir

.

This not much was her desire, but isn't to just to be recorded to study at university. At that time she liked a boy from Izmir, who teaches theater. And since it she could not find a common topic of conversation, for example - he told her, Shakespeare or Moliere, and she did not know what is this. Then she said to herself - "Let go to see what is this theater and I to learned about it". Then she never seen the boy again. She appeared for exams, first in ''Hacettepe'' in Ankara, but there she did not take the exam

s

. Then she was then tried in

Eskişehir

and there she took the exam. Until then she knew nothing about theater. She entered just curious to know what it is. She admits that the first year was very boring. But in the second year she understood importance and appreciate it. For her the lessons on theater seemed very strange. Her education started in 1995 and lasted six years.
She have a small role in movie Her şey Çok Güzel Olacak /

Everything

's Gonna Be Great

/ from 1998. She play the role of nurse.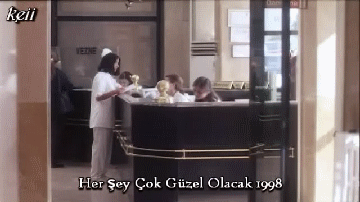 She played in the theater - "Aşk Gibi"/

L

ike Love

/

in 2001 in Istanbul around three months, during the "Second Spring''.
Nurgül Yeşilçay first visited Istanbul in her first semester vacation the first year of her education. In "Yeşhil bar'' / production house seems/ to Uğur Yücel /Mr. Nobody from Ask ve Ceza/ then filmed "Eshkiya" /Thief /. She had accompanied an acquaintance who appeared to test shots. Uğur Yücel saw her, asked her if he can shoot her with the camera. She was excited, trying to look calm / she was 18-19 years / but hearing that she will shoot with Şener Şen and directed is Turgut ... she were it is even more excited. Photographed her, but not received well. She goes back and continued to learn. Two years after that first meeting, during summer vacation, the secretary on Uğur Yücel were phoned on Nurgül. The secretary said that they would shoot series, talked about what it refers to. They asked her if she could go to audition. She was selected among 400 to 500 girls. Uğur Yücel was filming the first episodes of the show, he led her /helping her/ in playing. After she being approved, before appeared on set, there was collecting team. And she still no one knew except Uğur Yücel. She could not ever relax and talk, she behaves cold, but then she could not understand what was happening. And it was from excitement that she is among Türkan Şoray and Şener Şen. In her first conversation with Türkan Şoray, Nurgül says: Woman comes to me and said ''You will play my daughter'' and I just nodded and said,'' Yes, Yes''. Nurgül did not even remember at all how and what she was there and it is told then by Türkan Şoray. For Nurgül playing in this series, she received prize from her /from Türkan Şoray/. Meral Okay was part of this serial too. Nurgül learned many things from them and from her first crew /about morality and ethics on the set/. For her these things and these people occupied an important place in her life. During the filming of the first series, she never thought that became known, she traveled by train to Eskisehir, she used vehicles to public transport.
One article about

"Second Spring''

:
After the "Second Spring'', she refused all proposals and back in Eskisehir to finish her education. After that she had no suggestions, and she went in Izmir and she thought that was the end.
Then
Abdullah Oğuz
/producer, director, screenwriter/ call her and invited her to meeting. She agreed to play the show'' 90-60-90'' around 5 episodes.
One article about "90-60-90":
During the ''90-60-90'' Teoman came and invited her for a film. Began with the film

Şellale 2001

/Waterfall/ it was the summer after she graduating school.

She play the role of

Nergis. The film was shot in Antakya and is with political topic.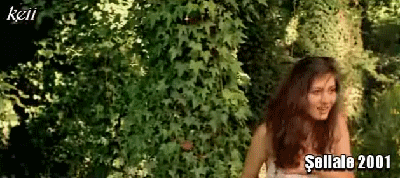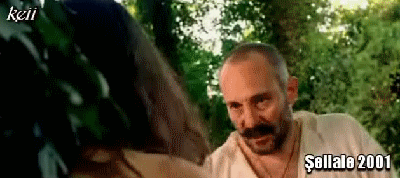 The

movie

"Mumya Firarda" /Runaway Mummy/ was shot in Egypt. Then Nurgül learned a little Arabic, but now she remember only a few words like - good afternoon, good evening and dear.
The caper plot involves a scheme to steal the mummy of Ramses IV by kidnapping archeologist Yahya (Ilhan Sesen). At the same time, gangster Cahit (Tarik Pabuccuoglu) wants the mummy's remains in order to concoct an aphrodisiac. However, the mummy is accidentally switched with another coffin. Meanwhile, smart cop Ahmet (Teoman) pairs up with dumb cop Ekrem (Selami Sahin) to chase the robbers, but they mistakenly chase Ahmet's love interest, Fatima (Nurgul Yesilcay), instead.
In September 2002, the film has been
in the program the Hollywood Film Festival
Several articles about the movie